I meant to post this post quite along time ago. I guess I got sidetracked and I forgot.Today I found the pictures I had taken for it and decided to post it now.
Let me start off that I have an extremely small and weird shaped shop, so anything that saves space for me is not only a must do it is an absolute necessity. My shop is only 25 feet long by 6 feet wide. In it I have a couple scroll saws out at one time, 2 belt sanders out at once, one is a 1×40 and the other is a 4×36. Along with that is a standing drill press. Add to that a band saw. So you can just imagine I am sure just how "crafty" I have to be with "my space"
In the pictures below is what I call my "intarsia" table.It is here that after cutting , sanding etc. all the little pieces, I will bring them to this table to lay out on the pattern. To fit them together.
Anyone that knows intarsia knows there can be (and often are) hundreds of little pieces that need to be put together and glued.
Again anyone that knows intarsia knows what a complete nightmare it can be to lose just one of these pieces.
My husband built me a pull out drawer for underneath my table. It is here that I can safely put all my pieces on without worrying that they will fall off, get lost etc. I do not know what I would do without this one pull out table. It is without a doubt THE most important piece of "furniture" in my shop. My pieces are always secure and always right there where I am working.
He also has made me a similiar item on my regular desk where I place my computer. Underneath the "top drawer" he has made me a pull out shelf that holds my keyboard.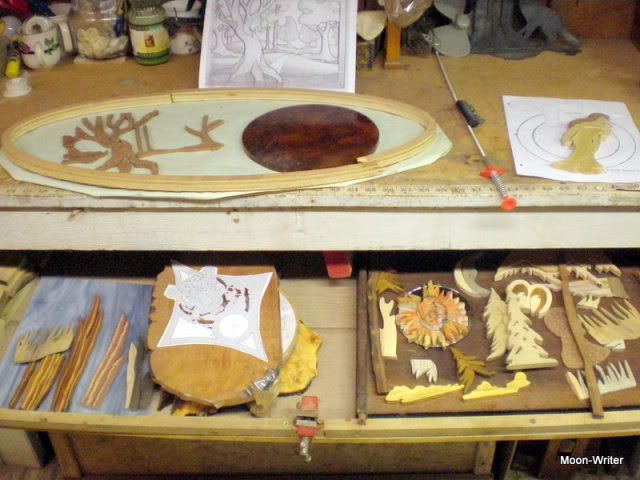 The slide out section is securely holding some of the pieces to a few projects I had going on at the time
This is it when it is pushed in. Underneath that you can see a trunk. In that trunk is where I have my extra special little intarsia pieces of wood, like I got last December from a friend. They stay safe in there and don't get all thrown around or dirty etc.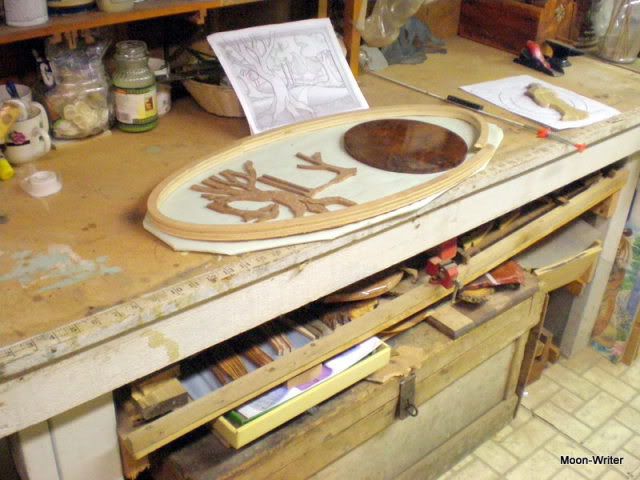 You can see this is an A-frame room also. Where the ceiling connects to the wall is only 4 feet high.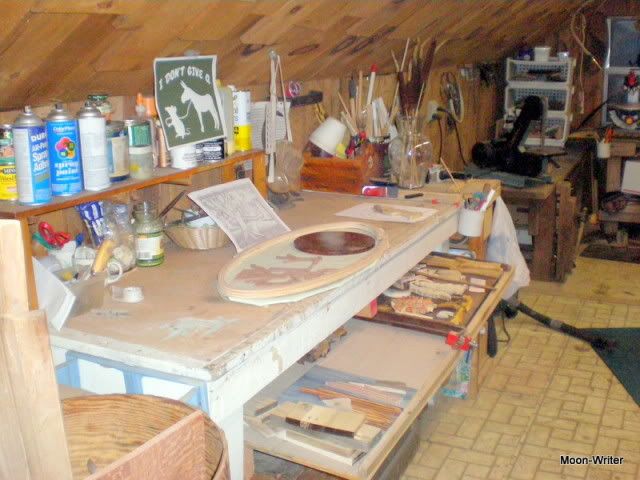 Not the shop for a tall person. LOL!!!
Another little thing that I do is on everyone of my tables in my shop is one of those sewing measuring tape. That way no matter what spot I am at I have a measure right there.
-- Allison, Northeastern Ca. Remember, Amateurs built the Ark. Professionals built the Titanic!
---