This is the puzzle all cut out and put back together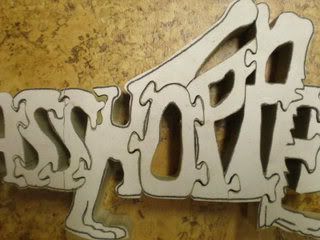 Notice I did not even really try to cut my "G" and "H" perfect. You can see where ther is some to be removed also between the "O" and "P". I would have rather cut this out better but I did not, nor did I notice it till now.


In comes "The Cheater" My term of endearment to one of my very favorite tools I own. My very old Delta 1×42 inch belt sander (with a 8 inch) disc sander on the side.
This also needs to be level and also squared.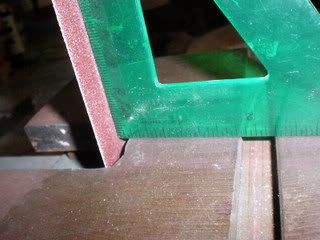 I am not sanding off anything that will keep this puzzle from fitting from one piece to the other, however I do want his back and feet to be squared.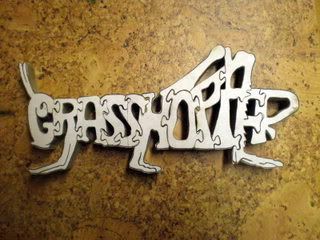 Now he is back together and he is all cleaned up!
By the way all his pieces fit the way they were suppose to and I did not even use a spiral blade. So I learned something my self here.
I also want to point out I used a #7 reverse tooth and also a #9 reverse tooth blades.
To be exact the #s on their packages of blades are #7 – .047 – .018 – 10(8rev)
and the other is #9 – .049 – .018 – 9(6rev) These are Olsen Blades that I get from the same place I got these patterns at
https://www.scrollerltd.com/
Now for the pattern removal. I did it the way I have said on LJ's before. I place the packaging tape on the wood first. Then I use spray adhesive on the pattern, wait 5 or 10 seconds for the spray adhesive to become tacky and then I place the pattern onto the packaging tape that is placed on the wood.
Poplar burns real easy and because of its light color I have always had trouble trying to "get the burn out" .I could not capture the picture I wanted to show you all, but I had actually burnt the paper on one of these pieces just with the scroll saw blade. Sooo if I had not had the packaging tape on it first that piece of wood would have been burnt instead of the paper that is on the tape. That would have been real bad considering there isn't a lot I could have done to fix a formed puzzle piece.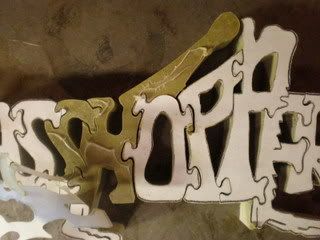 This is the best I could get on this, but I hope it sort of gives you an idea on how the tape just balls up and rolls the paper pattern off with it, by taking a heat gun and waving it over your project. Again don't get to close, you sure don't want to burn your now finished project.
I will say though this DID NOT work as well as usual. I am sure it is because of all the twisty cuts of the puzzle itself. I still would not change the way I did it unless perhaps transfer the pattern with a piece of carbon paper and then simply place the packaging tape. That may very well be the best way to do it as this did not come off anywhere near as easy as usual!
And again, the reason for the packing tape is to keep the blade cool. When the blade is kept cool it does not get all out of shape as quickly (especially on these puzzle pieces)and a cool blade has a much longer life.
-- Allison, Northeastern Ca. Remember, Amateurs built the Ark. Professionals built the Titanic!
---