My next step has been taken and that is to cut out all the inside pieces with the starter holes. I have done many of these puzzles and normally I have cut them by simply cutting off a letter at a time. Besides the middle of the A's and R's and O's and P's a person does not even need to place a starter hole in the other places if you are to cut the letters out one at a time. In the letters L,L,I,G, if I were to have cut the letters OFF one at a time then these inside cuts can be done later.
There is a couple reasons I am not doing it that way on these. This is a piece of 1 inch poplar. Like I stated in the first of the series you have to be level AND squared so as the pieces will come apart properly. Doing it this way helps me keep better control of the wood. The last thing I want is to end up with one letter that needs some kind of sawing. Even my small hands are to big for that.
Now I remove the inside of the legs so that I can get to the actual pattern pieces.This way I will be able to then cut UP through the body and then over the "back" or top of the next letter and I then have a fully cut already done letter that "hopefully" fits!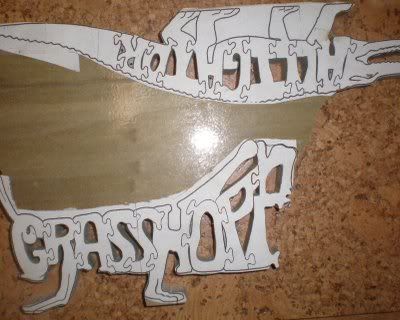 And since I started this "blog" tutorial I can say happily that on my grasshopper , the R connected to the E piece and the E piece connected to the P, just fine!
WHEW!!!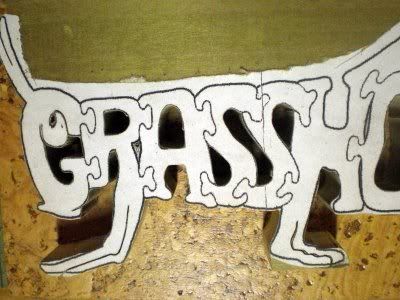 I normally use a spiral saw blade to cut these puzzles out. Most people that I have spoke to that scroll do not like to use spiral blades. I learned how to use a spiral blade very early on before I read all the horror stories about them. I probably would have never tried even using one if I had read and continue to read the bad rap these blades get. I am not using a spiral blade on these puzzles for only one reason and that is because of the thickness of this wood. So this is new for me also . That's why I said whew. I know that Betsy here at L.J.'s uses spiral blades as she recommended something to me about using one on a particular project, but I do not hear about them much at all.
A Spiral blade is a blade with teeth all the way around instead of just on one side such as a band saw or jig saw blade. This makes it where you do not need to turn your wood around to do a cut . You are able to move the wood (without turning it) any way and it gets the job done. I love them. Just not for this project
PEACE!!!
-- Allison, Northeastern Ca. Remember, Amateurs built the Ark. Professionals built the Titanic!
---