I thought I would try my hand at writing a blog here. This is a totally different way for me as far as patterns go. I am used to a pattern that is on a sheet of paper the size the object will be when done. and then you make copies and cut out the pieces of the paper pattern and place them on your wood. This pattern came like this.


One sheet of paper NOT actual size.Then the pattern itself IS in pieces you need at the size they are suppose to be. When I first started this, a couple days ago, I did not think I was going to like it. #1 For sure that I DO NOT like is the fact there is no "actual" size pattern to lay your finished cut pieces on. And I can see how a person could REALLY screw up a project this way. If each piece was off by just 1/16 ,It could very well end up way out of whack by finishing time.1 thing I really DO like is I did not have to make a bunch of copies. One to lay peices against and then others to cut up and use for your template.

I tried resizing it to make one pattern the actual size to lay pieces against, but it did not work. Every pattern I have ever had says to spray, spray adhesive on your paper pattern piece then adhere it to your wood. Then you cover that with clear packing tape. First it is THE utmost important thing to do IS cover your wood with clear packing tape.(I also do the same when I use my band saw on hardwoods) It keeps your wood from burning,by keeping the blade cooler, thus extending your blade life. I would say that is the second most important thing to do when scrolling, using the packing tape on your wood.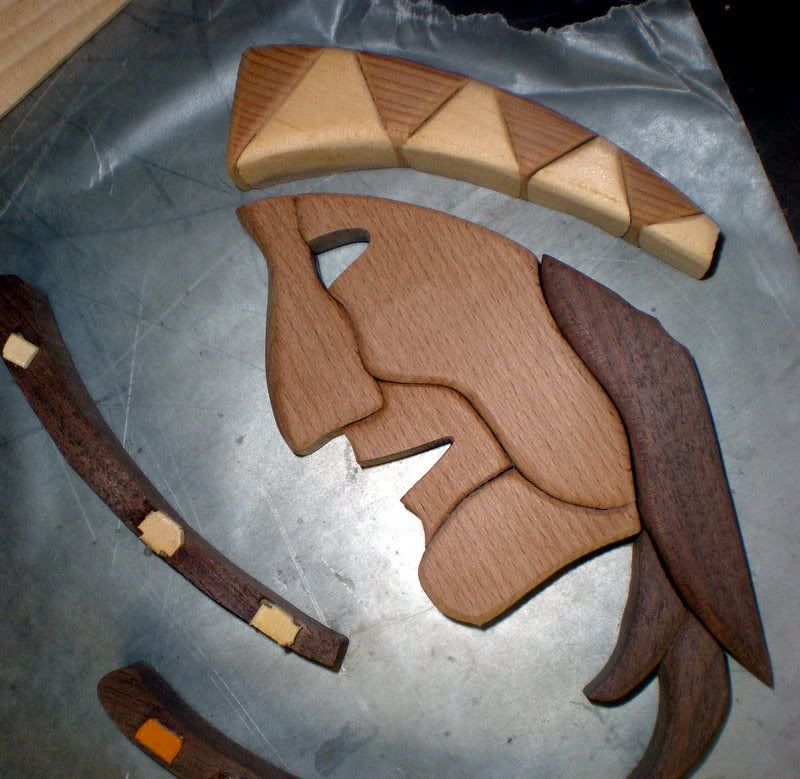 # 1 most important thing when placing templates on your wood for scrolling. Don't listen to the pattern books! Matter of fact do exactly the opposite!. An old elderly artist in Laguna Beach Ca. taught me the following, Place clear packing tape directly to your wood you are going to cut. Then you spray your spray adhesive to your paper template and THEN you place it on the wood. Here's why.
When your pattern is adhered to your wood, when you are done scrolling you now have a glued piece of paper to remove. If you are doing fine fretwork it is VERY easy to break your piece trying to get that adhesive off. Sure you can use mineral spirits, but there just is no reason too, if you do it the way I just stated. When you are done cutting, if it was a big piece just peel off the tape . With the tape comes your pattern. Or if you are cutting a fine piece of fretwork, sure you do not want to yank the tape off, as you can easily bring with it one of your finer cuts. Sooo (This is the fun part, for me anyway) Buy yourself a cheap heat gun. I got mine at Harbor Freight $9.99. I spent an additional $9.99 to get an extra 12 different shaped heads. Turn that puppy on and wave it back and forth (and not to close, you don't want to burn your project)and watch your pattern just roll up because of the packing tape melting, and wait a sec to cool and take the little ball of melted tape off and you are DONE. Very rarely do I have to use mineral spirits to take off any leftover residue!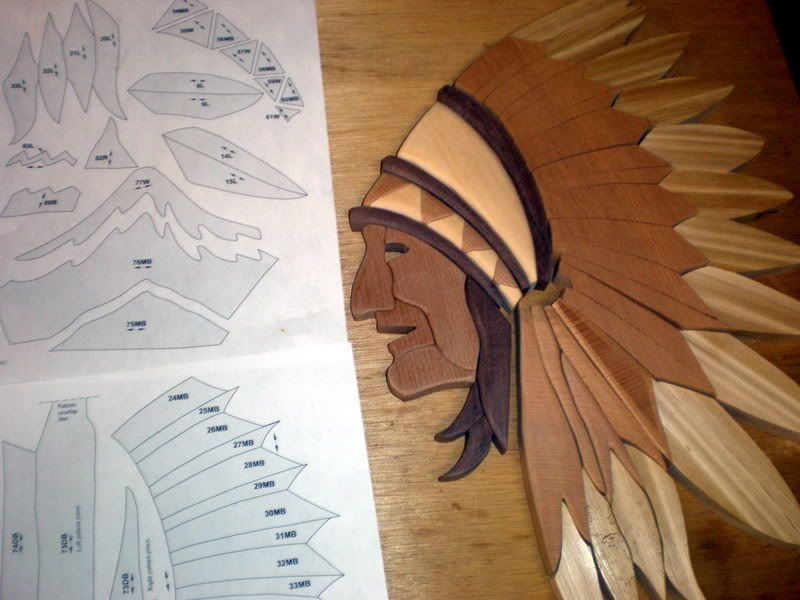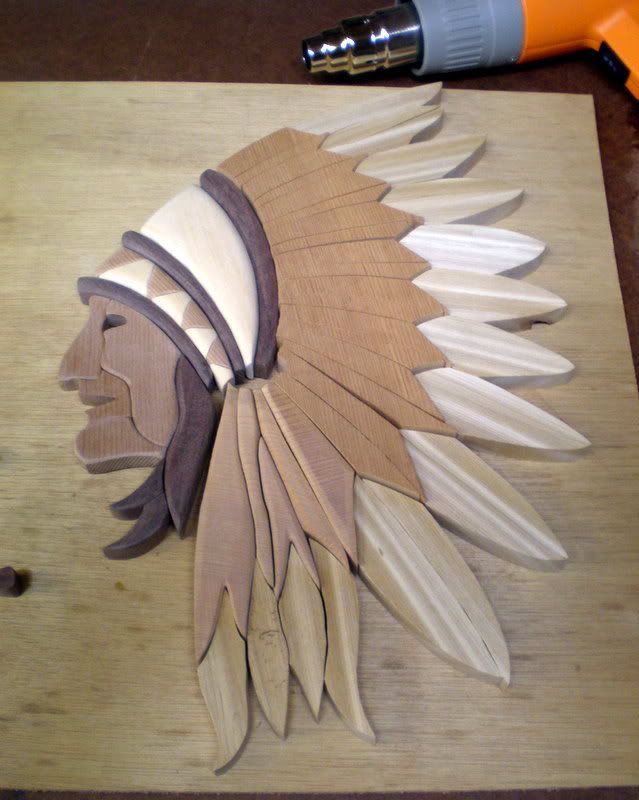 These next 2 pictures are a perfect example of what I am talking about. On the bottom right , there are a couple of feathers there that look all gummy. That is because on those pieces I had absent mindedly placed my paper pattern on the wood with the spray adhesive, and forgot to put the tape on first. It is this right here that made me decide to even write this blog. That advice I got from that gentleman is the single best advice I have ever gotten when it comes to scrolling. I always want to just tell anyone who will listen LOL!!!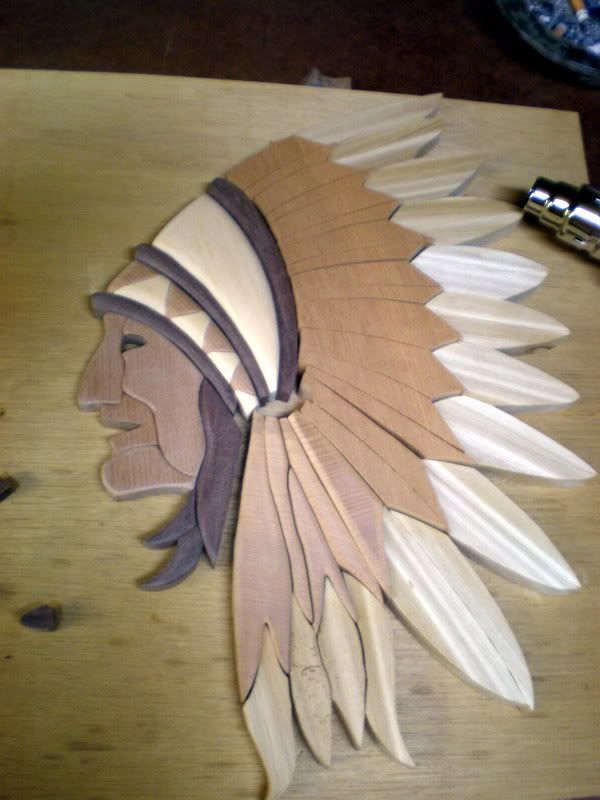 Well that is part one of this blog. As you can see i now have a ton of feathers to sand and shape. His head is done and glued, except for eyes and lips. I also am trying to figure out some other way of presenting him thanbn how this pattern is. I may cover his shoulders in some leather I have instead of wood.I amalso thinking of using a mirror some how.His face is Red Maple (I think) black walnut , cedar, and outer feathers "Mystery Wood" I want to add something i thought was a little funny. The pattern calls for his outer feathers to be white. But get this, It calls for his face to be white also! Is this not an Indian LOL!!!
PEACE!!!
Allison
-- Allison, Northeastern Ca. Remember, Amateurs built the Ark. Professionals built the Titanic!
---