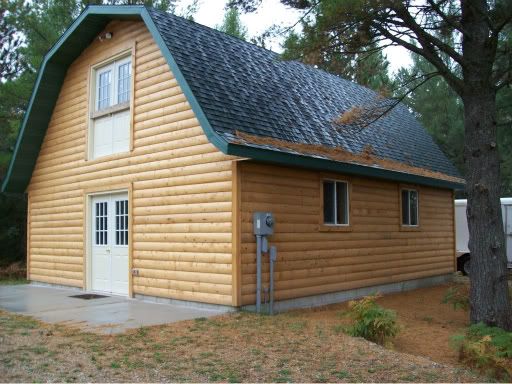 When we built our vacation home in Michigan's Upper Peninsula, I had planned to have my shop in the garage, just as I had been doing in our Florida home for the past 25 years. However, with a house still undergoing interior work, the need to store a lot of other large stuff such as boats & canoes, a freezer, outdoor funriture, and other storage needs due to seasonal changes, the space was soon overwhelmed. The "blessing" of having several large white pine trees fall on our property, which I had bandsawn into useful boards, also created the need to dry and store about 1500 board feet of lumber – with no place to put it except outside.
So, in the Spring of '07, when Menards (a Northern "big box" retailer) had a sale on garage packages, I was ready. For the first time in my life I was going to have a separate building dedicated to woodworking. The size of this "garage" was dictated by the amount of land space available, and of course, the budget. Since I had been accustomed to working in a little over ½ of a two car garage, the selection of a shop 24' x 28' gave me a large two car garage space, virtually tripling my accustomed working area, plus having the luxury of a second story for wood drying and storage,…….. but, I'm getting ahead of myself.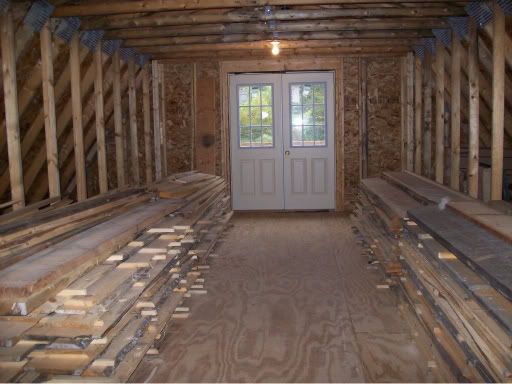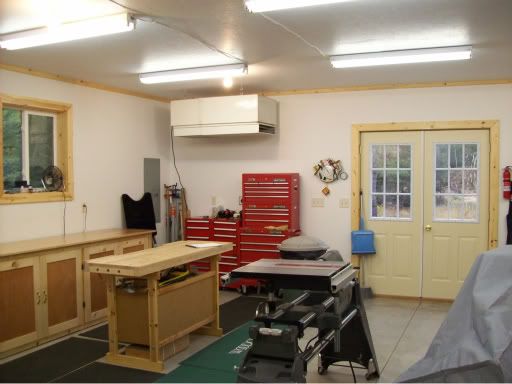 From the beginning I decided that I was not going to build a typical garage. So, instead of a garage door, I selected a large double door. This provides a standard 30" entry door, and with both doors open, gives me plenty of room to move large projects and 4'x 8' sheet goods through. Plus, I don't have to contend with all that ugly mechanism inside on the ceiling. The gambrel roof was a natural selection and allows for a 12'x 28' second story. This is where wood is stored. To facilitate the movement of large boards to and from the loft I put a matching double door directly over the first floor entry. I can stand on the bed of my pick-up truck and easily move wood up or down. In addition, there is an interior staircase to the loft at the rear of the shop, and I find that it is not difficult to move individual 8' long boards up and down the staircase. With six windows on the main floor I have plenty of natural light. I painted the walls and ceiling with semi-gloss white paint, and installed both incandescent and electronic ballast fluorescent fixtures on the ceiling. An air cleaner, a gift from my brother, was installed in one corner of the ceiling, and a 35,000 BTU propane heater was placed in the opposite corner. "Air conditioning" is supplied by two small fans that sit on the window ledges. At 46 degrees North, this is all the A/C I need. With ample 20 amp 120V, and 30 amp 240V recepicles on the wall, I was ready to move tools in.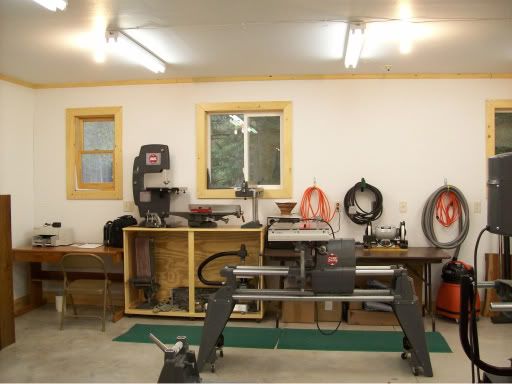 With three times as much space as previously, I could have put in new stand alone tools. However, even as large as my new shop seemed to be, I simply could not see how I could accommodate a large fixed in position cabinet saw in the middle of the room. Although it is possible to put large stand alone cabinet saws, bandsaws, and jointers on mobile bases, I'm now in my seventh decade, and I did not wish to start pushing several hundred pound machinery around the floor. Therefore, it was an easy decision to stay with the Shopsmith system, with which I had become accustomed to through the years. With the addition of a separate power stand for my planer, and a new variable speed power station that can be used to run the scroll saw, beltsander, and bandsaw (shown second picture above), I am able to enjoy almost all of the advantages of stand alone tools, plus have the versitility of Shopsmith's system. Late last year, the addition of a second Shopsmith (picture directly above), purchased from a local widow, also included duplicates of several special purpose tools and accessories that I already had. This has in many ways given me a "second shop in one". I often find myself using one Shopsmith set-up in saw mode, with the jointer attached on the end, and the second Shopsmith arranged in the vertical drill press position. Another plus is whenever a family member comes over to work on his project, I can continue with whatever I'm working on without interruption.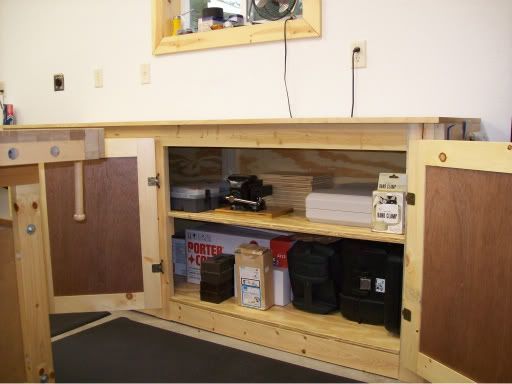 Storage is always a problem in any shop. My windows, while providing lots of natural light, significantly reduce upper wall space. I brought in two folding banquet tables and they were soon cluttered with boxes of accessories and tools in disorganized fashion, leaving me with little work surface. I still had to place other heavier items underneath the table on the floor. The addition of four Shopsmith metal cabinets, and the purchase of a Craftsman triple tool chest helped to get my smaller tools and accessories organized. The Shopsmith storage station, shown in the third picture above, between the bandsaw and the planer, holds the jointer, scroll saw, and the extension table & fence. A shelf under this station holds other accessories such as the crosscut sled shown here. Two shelves, mounted above on the wall, hold even more items. However, I still had too many tools, such as routers, circular saw, jig saw, dovetali jig, and others, packed in bulky boxes or plastic cases, sitting on the floor. Therefore, this summer I built a 2' x 8' combination workbench/storage cabinet. While the four paneled doors are a little "overboard", the new storage space inside, on two shelves, has finally gotten my tools off of the floor. I find that the eight foot long top on this cabinet is also a great flat surface for clamping and gluing long boards. However, on the opposite side of the room, the bandsaw, jointer, jigsaw, and belt sander from my second Shopsmith, were still "at odds" on the floor. The 52" storage cabinet shown below, also built this Summer, finally put them in place for much more convenient use.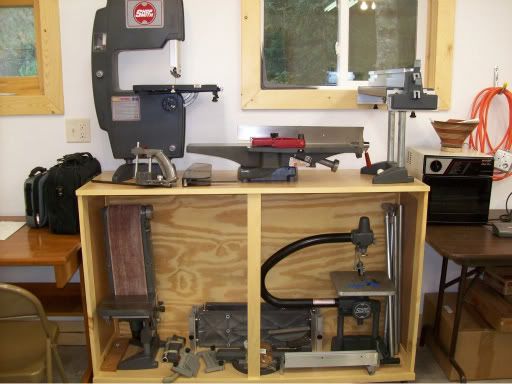 Despite my best intentions in planning. This is still very much a work in process. I'm finding that one has to work in a shop for awhile in order to learn how best to use and orgainze it.
—"Heaven is North of the Bridge"
8iowa
home | projects | blog
144 posts in 262 days
By subscribing to the RSS feed you will be notified when new entries are posted on this blog.
Entry tags/keywords
Recent Entries
· "Workshop in the Woods" – 2 minutes ago
-- "Heaven is North of the Bridge"
---