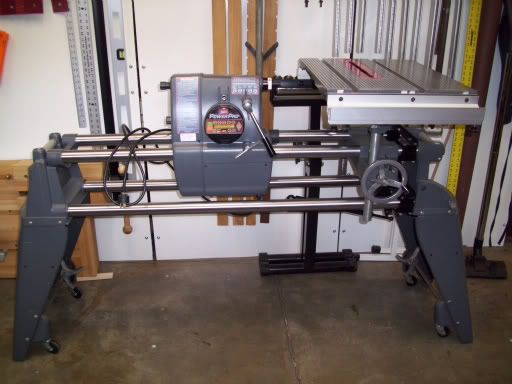 Actually, it is. I'm the grandpa, and I've owned this Shopsmith since '83. Through the years, this original 500 model has been upgraded, first to 510, then to 520, and now to the ultimate upgrade, the Power Pro.
What is the Power Pro? Simply put, this is a headstock powered with a DVR, digital variable reluctance motor, whose performance goes beyond that of DC and AC variable frequency motors. The heart of the motor is a computer controller that can switch magnets on and off several hundred times per second. The Power Pro can be run on either 120 or 240 volt without changing any internal connections. It simply can sense what voltage is coming in.
While the old Shopsmith headstock achieved a useful 7 to 1 speed variation, using variable pitch pulleys, the DVR powered Power Pro has a 40 to 1 speed range, 250 to 10,000 rpm, providing full torque throughout. One can precisely "dial in" any speed. The computer/controller also has a mode that can assist in selecting the proper speed for a particular operation. The computer senses the load, and automatically provides the necessary torque. The smooth and quiet operation is impressive. Placing a cup of coffee on the table reveals nary a ripple, even at 10,000 rpm.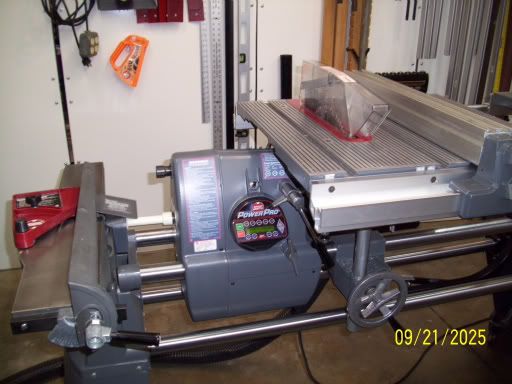 Rated at 2 HP on 240 volt, users will find that the Power Pro's ability to sense torque makes it possible to do table saw ripping equal to many cabinet saws. Additionally, the variable speed feature has made it possible for me to rip and crosscut curly maple and cherry without getting burn marks. At 250 rpm in lathe mode, I can turn heavy stock, up to 16" diameter. Likewise, as a drill press, the Power Pro provides the necessary power to drill with large diameter forstner bits with ease. At 10,000 rpm, it can spin larger diameter shaper and router bits with more power than available with traditional routers. While multi-purpose tools are not for everyone, this upgrade gives those who must work in very small shops, like my 192 sq. ft., the increased power and capability of many larger stand alone machines.
Shopsmith has engineered this new DVR motor and controller to fit into the existing headstock. Thus, even Shopsmiths made back in the late 50's can be upgraded. Among several options, I selected the DIY upgrade package. Doing it yourself involves removing everything in the headstock except the quill feed assembly. The only other original part used is the headstock lock which is removed and installed later in the proceedure. An instruction manual, DVD, templates, and drill guides, made this upgrade a straight forward operation that took about four hours. Other options include purchasing a new headstock, or sending your old headstock back to the factory for the DVR motor installation.
Even though the ability to upgrade older machines softens the blow, the price for cutting edge technology like this will deter some. None-the-less, it's great to see a small American manufacturer having the guts to engineer, and introduce an advanced product like this.
-- "Heaven is North of the Bridge"
---