We are off to Oregon to visit Schroeder's shop.
The Gnarly Wood Shoppe is a man's shop (well actually two to three and a dog, according to the sign). From the taxidermy to the office art, it's pretty clear that this is a manly environment.
And this is what they make there.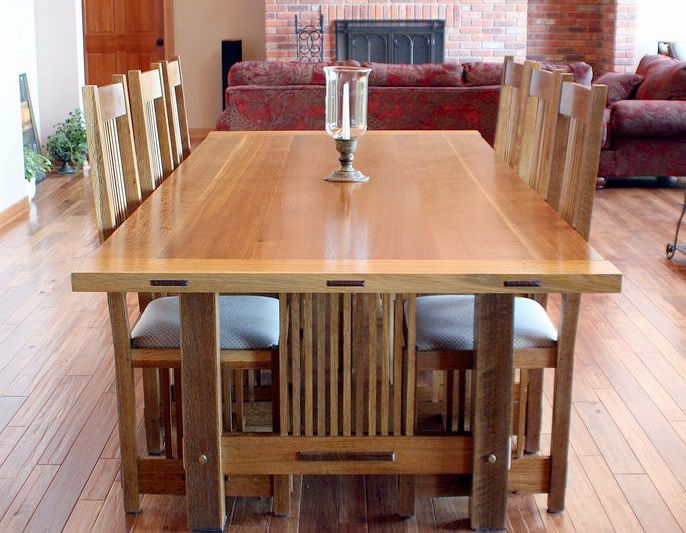 The über table and the über Thorsten side table.
I've made jewelry boxes that took days to make that don't come up to that drawer. And that book-matched crotch-grained top, breadboard ends, pyramidal plugs…
Pretty safe to say it's masterwork.
Here Deb is judging the relative merits of wall-mounted antlers in the work environment.
Looks like a Rockwell International drill press, so probably 1971-1984, the Grandfather of present day Delta. Still doing an honest day's labor. The plumb bob collection, and the wonderful planes make it a working museum.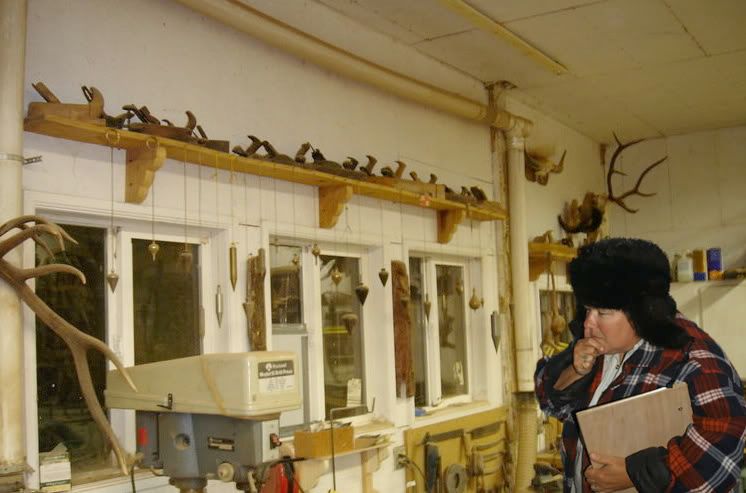 Next MsDebbie contemplates the intricacies of the centralized dust collection system, and records that there are adequate provisions for proper hydration in the workplace.
Both of us had the odd feeling of being watched…
When performing a thorough drawer-by-drawer inspection it's best to be fortified with a bracing cuppa.
Check out the two-man saws. I imagine there have been some board-stretching tales told around that stove.
Last but far from least there's the Foreman. Pretty easy going sort, smart as a whip too.
Great shop, Fellas! I ran out of room to feature the assembly/clamp storage table and the story about the latin inscriptions carved in the bottom of a table. Folks will just have to visit schroeder's home page. Believe me, Mr. Schroeder, you passed and how. Get your certificate.
-- "Bordnerizing" perfectly good lumber for over a decade.
---